The packaging sector is growing, with a forecasted annual growth rate of 1.7% until 2027. New regulations are also driving rapid change and innovation. On 9 and 10 March, close to 120 people from 18 countries joined the event Shaping the Future with Packaging to discuss why innovation is needed, and how companies along the supply chain are playing their part.
Shaping the Future with Packaging was organised by Intergraf, the European federation for the printing industry, and FTA Europe, the European association representing the flexography sector. It was supported by market research firm Smithers.
Moderated by Joanna Stephenson, Founder and Director of PHD Marketing, Shaping the Future with Packaging brought together leaders of Europe's packaging industry for two days of learning and collaboration. One thing was clear: focusing on sustainability is no longer optional, it's mandatory. All speakers remarked that the packaging supply chain has a key role to play in the green transition.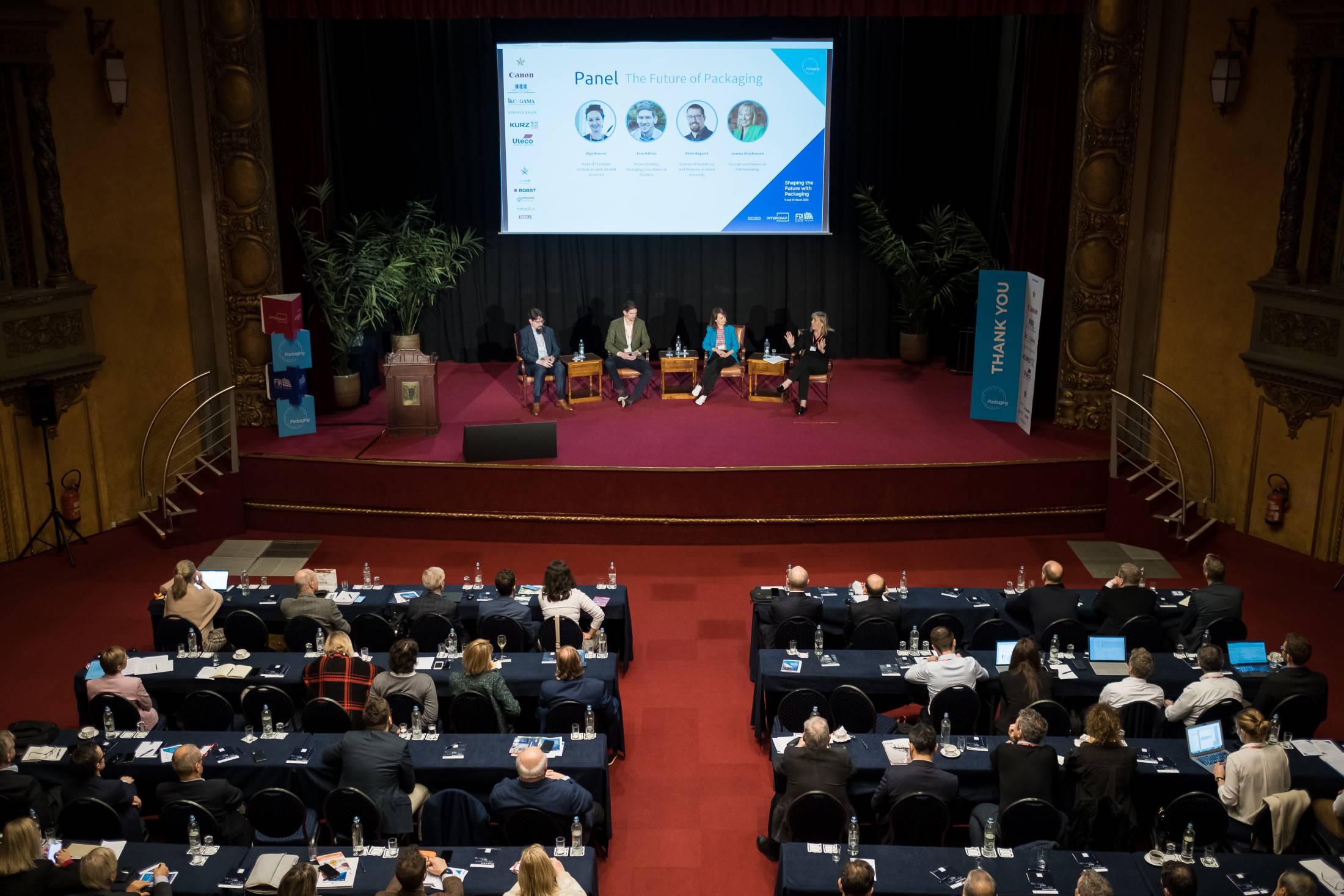 Tom Hallam from Smithers opened the conference with the latest packaging market data. Sustainability is "the primary driver of change for key stakeholders in the supply chain," wrote Tom in the exclusive market report produced by Smithers for this event.
On greenwashing, Tom explained that products will be "far more policed going forward. Producers will have to ensure that claims can be properly backed up." It's the same for packaging waste. Tom urged packaging producers to "be prepared!" because "you will have to prove that you can supply packaging that meets recyclability standards."
Leading the way for brands, Francisco Nogueira from The Coca-Cola Company presented 'World Without Waste', Coca-Cola's platform through which they focus on sustainability. He explained that "Coca-Cola recognises there is a waste problem in the world" and wants to be "part of solving that problem." To do this, they focus on three key concepts: design, collect, and engage. Their ultimate end goal is "zero waste and zero emissions."
The key to any successful packaging product is in its design. Susanne Lippitsch, a packaging designer at SL Design, said that "packaging should appeal to as many senses as possible," as well as fitting the product, being emotional, and being sustainable.
Every speaker agreed that the European Union's Packaging and Packaging Waste Regulation (PPWR) will be a key driver of change throughout the packaging industry because compliance will be obligatory. Innovation is needed to meet targets set in the PPWR, with the packaging value chain already working on creative solutions.
Maja Desgrées du Loû, European Commission Officer involved in drafting the PPWR, stated why the legislation is necessary. "Without this regulation, packaging waste would continue to grow". Plastic packaging, she continued, would rise by "an estimated 40% if nothing was done." The Commission proposal will be negotiated by national governments and the European Parliament, with adoption of a final text expected in March 2024.
Olga Munroe, Head of The Retail Institute at Leeds Beckett University, said "We don't talk enough about food waste that can be avoided by wrapping something. Both food waste and packaging waste are important, but we need to find the right balance." More consumer education is needed for this, but it shouldn't come from industry. "What consumers want is for national media and NGOs to tell them."
Peter Ragaert, Director of Pack4Food at Ghent University, also noted the important role of packaging in preventing food loss. He highlighted that 30% of food is wasted (50% of fruit and vegetables). Packaging can help to reduce this. "This sector is highly innovative," said Peter. Other possible solutions are also being explored, such as "coatings that are applied directly onto fruit or vegetables."
Technical innovations are needed for Europe to reach its recycling targets, said Jan 't Hart, who presented the digital watermark 'Holy Grail 2.0'. Using the same principle as a QR code, "the pattern of the watermark is incorporated into the packaging's decoration, remaining invisible to the human eye". This facilitates sorting to improve the recyclability of packaging.
The packaging industry is an important stakeholder in Europe's evolution to a green and circular economy. Packaging producers and regulators must work together to ensure a smooth transition. There will be challenges due to the complexity of different markets, different waste streams, different recycling capacities, and different cultural norms, but packaging producers are knowledgeable and prepared.
The industry is ready to meet this moment.